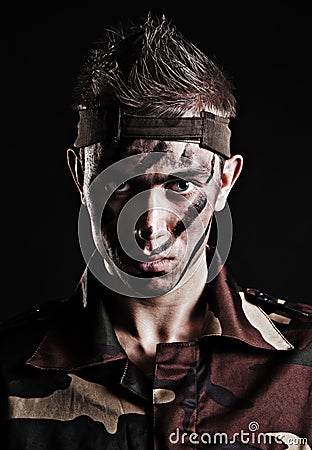 Having complete the first half of this study as we looked at passages in JOHN's Gospel (

JOHN 14; 15
) and other Scriptures, examining the source of our love, joy and peace, we now proceed in looking at another aspect of this study by considering the gravity of the cost for our salvation through Jesus Christ and Him crucified . . .
Where was there any frivolous activity in the Garden of Gethsemane when our precious LORD shed His blood, sweat and tears, crying out to the Father for the terrible terror that was before Him, kneeling in fervent prayer under the shadow of that coming Cross?
Where were the fun times when the LORD had His head covered in a sack and then mercilessly beaten with rods by cruel Roman soldiers?
Where were the light-hearted escapades when the LORD was tortured by the Romans with the Cat O' Nine Tails that was so vicious in shredding flesh from bone, that the victims often died from being disemboweled!?
Where were the good times when the LORD hung on that Cross for six long hours, bearing upon His pure and righteous and holy Soul the entirety of the human race's sin and all that results from sin (the sorrows, the pain, the sickness and corruption) and the wrathful judgment of Almighty God upon His own Son Who was our sin-bearer?
Oh, certainly there was and is profound joy and reassuring love and peace at the Resurrection of the LORD and His visitations of 40 days with His beloved brethren!
Yet that was and is based things spiritual, and not the carnal activities that bring 'pseudo-joy' to the church of today. Today, it seems that the professing church seeks out 'spiritual' entertainment and happiness rather than spiritual edification and the genuine joy of JESUS.
Let's hear what an old time preacher has to say about this . . . Entertaining the Church by A.W. Tozer.
In my regular reading of the Word, I came to the epistle of Paul to Titus, and there in the 2nd chapter I noticed something very pertinent.
In the midst of Paul's exhortation of the saints under the care of their pastor Titus, the apostle speaks of the need for sober mindedness and sobriety among the saints there: for the aged men as well as the aged women, for the younger women and the young men as well – basically a need for sobriety for everyone in the church.
One could refer to this as being of a 'serious mind'. I believe this is a great need for the church today; we need to get serious about our faith. We need to get serious about obeying the Word of God, and just as serious in our proclamation of the Gospel and in making disciples!
Professing Christians today seem sadly cavalier about the Holy Bible – picking and choosing what they believe and discarding the rest; what about prayer and prayer meetings? I remember once someone showed up for prayer meeting at my place. They said (much to my dismay) that they "didn't have anything better to do, so they thought they'd show up for prayer meeting"!?!
How many of professing Christians are able to share the Gospel effectively or even see a need to do so? Where are the elder saints that can come alongside of young believers in need to the spiritual 'TLC' of discipleship, helping them to learn the Word of God and applying it to their lives, and conduct in saintly living?
YES, SOBRIETY, SERIOUSNESS IS SOMETHING DESPERATELY NEEDED IN THE CHURCH TODAY!
So let's examine what Paul instructed to Titus and his congregation:
TITUS 1:1-4
But speak thou the things which become sound doctrine:
2 That the aged men be sober, grave, temperate, sound in faith, in charity, in patience.
3 The aged women likewise, that they be in behaviour as becometh holiness, not false accusers, not given to much wine, teachers of good things;
4 That they may teach the young women to be sober, to love their husbands, to love their children

,
The Greek word for "sober" in

vs. 2
is
nephaleos
and it means, "to be sober, circumspect, temperate, abstaining from wine, either entirely or at least from its immoderate use; of things free from all wine, as vessels, offerings" One could justifiably add abstaining from any influences that would cloud the mind and impair sober judgment in the matters of life.
The elder women, according to Paul were to do likewise and he supplements this with "behavior that is befitting holiness" The younger women were to be taught sobriety as well and here this word in the Greek is sophronizo and it refers to "of sound mind, to discipline or correct, to teach to be sober; to restore to one's senses, to moderate, control, curb, disciple, to hold to one's duty, to admonish, exhort earnestly".
TITUS 1:6-7
6 Young men likewise exhort to be sober minded.
7 In all things shewing thyself a pattern of good works: in doctrine shewing uncorruptness, gravity, sincerity

,
Here the word for "sober minded" is closely related to the previous word; the Greek word employed here is sophreneo and it means, "to be of sound mind, moderate, to be in right mind, be sober minded, soberly, to exercise self control, to put a moderate estimate upon one's self; think of one's self soberly; to curb one's passions."
TITUS 1:11-13
11 For the grace of God that bringeth salvation hath appeared to all men,
12 Teaching us that, denying ungodliness and worldly lusts, we should live soberly, righteously, and godly, in this present world;
13 Looking for that blessed hope, and the glorious appearing of the great God and our Saviour Jesus Christ

;
Here again the Greek word used is closely related to the previous two and it is sophronos and its definition is as follows: "with sound mind, moderately, soberly, temperately, discreetly". This is especially important in the light of

vs.13

where it speaks of "the blessed hope and the glorious appearing of the great God and our Savior Jesus Christ".
We know that our LORD is coming back and we know the times and the seasons, but not the day or hour – and so we are always admonished to be ready, praying and watching for His coming again (

MARK 13: 32-37
):
LUKE 21:34-36
34 And take heed to yourselves, lest at any time your hearts be overcharged with surfeiting, and drunkenness, and cares of this life, and so that day come upon you unawares.
35 For as a snare shall it come on all them that dwell on the face of the whole earth.
36 Watch ye therefore, and pray always, that ye may be accounted worthy to escape all these things that shall come to pass, and to stand before the Son of man

.
Being prepared and ready spiritually for our LORD's RETURN is something that should be uppermost in our hearts and our service and ministry unto the LORD should reflect this with a kind of fervent urgency (not hectic or panic driven, but with a serious mind, dedicated to the cause of Christ).
We should be taking our lives for Christ very seriously, guarding our hearts and protecting them from infiltration of influences by the enemy that would seek to bring us to a state of unfruitfulness.
For more on this, please check out another article on FROM The MIND Of FIRE A Scenario of Four Seeds.
The enemy likewise understands the true nature of this world that it is a battlefront – not a play ground – between good and evil; and in such warfare we must be sober, far more sober than any soldier on any earthly battlefield with bombs and bullets blazing all about him.
1 THESS 5:8
But let us, who are of the day, be sober, putting on the breastplate of faith and love; and for an helmet, the hope of salvation

.
1 PETER 5:8-9
8 Be sober, be vigilant; because your adversary the devil, as a roaring lion, walketh about, seeking whom he may devour:
9 Whom resist stedfast in the faith, knowing that the same afflictions are accomplished in your brethren that are in the world

.
You will note something else of great importance in this chapter of Titus that seems associated closely with soberness and that is the word "sound". It appears three times in this chapter and a total of five times in this letter (

TITUS 1:9,13; 2:1,2,8
).
TITUS 2:1
But speak thou the things which become sound doctrine
:
The first time it appears in chapter Two is in regards to sound doctrine and it means "to have sound health, be well (in body); figuratively, to be uncorrupt (true in doctrine); be in health (safe and) sound, (be) whole (-some); of Christians whose opinions are free from any mixture of error; of one who keeps the graces and is strong."
So we see that a sound and sober mind is at least partly, and dare I say a great deal involves sound doctrine, that is the teaching of the Word of God without any impurities, falsehoods or errors, no doctrines or traditions of human (or otherwise) origin.
This same word is used in the second verse as well:
TITUS 2:2
2 That the aged men be sober, grave, temperate, sound in faith, in charity, in patience

.
To have such purity and free of any taint or marring in regards to our faith and love and patience; the word for faith is well known, that is pistis and it refers to "moral conviction (of religious truth or truthfulness of God or religious teacher); especially reliance upon Christ for salvation; abstractly, constancy in system of religious (Gospel) truth itself; assurance, belief, believe, faith, fidelity*.
"The conviction of truth if anything, belief in the New Testament of a conviction or belief respecting man's relationship to God and divine things, generally with the included idea of trust and holy fervor born of faith and joined with it. A) Relating to God – 1) the conviction that God exists and is the creator and ruler of all things, the provider and bestower of eternal salvation through Christ. B) Relating to Christ – 1) A strong and welcome conviction or belief that Jesus is the Messiah, through whom we obtain eternal salvation in the kingdom of God. C) The religious beliefs of Christians. D) Belief with the predominate idea of trust (or confidence) whether in God or in Christ, springing from faith in the same.
* - Fidelity, faithfulness – the character of one who can be relied upon."
Then this word "sound" appears again in verse 8:
TITUS 2:8
8 Sound speech, that cannot be condemned; that he that is of the contrary part may be ashamed, having no evil thing to say of you
.
This word is very similar to the previous one, that being hygius and it means, "healthy in body; figuratively true (in doctrine); sound, whole.
1. Sound: a. of a man who is sound in body.
2. to make one whole, i.e. restore him to health.
3. Metaphorically, teaching which does not deviate from the truth."
The word "speech" in the Greek is logos, and this refers to "something said, including the thought, by implication, a topic or subject of discourse; also reasoning (the mental faculty) or motive; by extension . . . the Divine Expression (i.e. Christ), doctrine, preaching, reason, treatise…"
"Sound speech" therefore not only has to do with teaching of doctrine and maintaining the wholesomeness and truth of such doctrine, never deviating from the truth but also in the common speech of every day conversation, that we ought always to speak the truth in every matter, and especially in spiritual matters where the Gospel and the Word of God are concerned.
Such should be the purity of our speech that even our enemies who will certainly scrutinize every word we speak will not be able to condemn us in any way, but rather be ashamed, even as our LORD Himself stated:
MATTHEW 5: 10-12
10 Blessed are they which are persecuted for righteousness' sake: for theirs is the kingdom of heaven.
11 Blessed are ye, when men shall revile you, and persecute you, and shall say all manner of evil against you falsely, for my sake.
12 Rejoice, and be exceeding glad: for great is your reward in heaven: for so persecuted they the prophets which were before you

.
Elsewhere Paul admonished the saints regarding "sound words":
2 TIMOTHY 1:12-14
12 For the which cause I also suffer these things: nevertheless I am not ashamed: for I know whom I have believed, and am persuaded that he is able to keep that which I have committed unto him against that day.
13 Hold fast the form of sound words, which thou hast heard of me, in faith and love which is in Christ Jesus.
14 That good thing which was committed unto thee keep by the Holy Ghost which dwelleth in us

.
I pray that we all (myself included) will prayerfully examine our lives and scrutinize them in the light of the Holy Spirit and the Word of God to determine if and where we need to make any changes in our attitudes, conduct and lifestyle and determine to obtain and keep an attitude of seriousness where the things of God are concerned and like our LORD Jesus, even at so young an age of thirteen, that we in fact will "be about [our] Father's business" as our number one priority (MATT 6:33).
We live every day of this temporary life in the light of eternity where our labors will be judged by our LORD and SAVIOR and so, the urgency and vital importance of our mission is plain.
We cannot presume upon time and our life here on this Earth; we may be called home tomorrow or the LORD may return and take us there at the Rapture of the Church – are we ready for that trial at the bema seat of Christ.
1 PETER 4:7
7 But the end of all things is at hand: be ye therefore sober, and watch unto prayer
.
In closing, let me offer you one last article from The RED PILL Consortium that deals with our LIVING IN LINEAR ASSUMPTIONS
May the Grace of the LORD Jesus Christ be with us all, as we grow in this grace and the knowledge of Him – the Holy LAMB of God and LION of the Tribe of JUDAH! Ame
n!