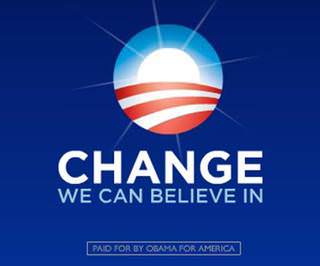 There is an old expression, "The more things change, the more they stay the same."
This means different things to different people, I'm sure, but to me, this says that as things on the surface of our real world changes, the heart of what 'makes it tick' doesn't change at all.
We know that we live in a fallen world, governed by Satan, who is the god of this world. We also know that there has been, throughout history, glimpses of light and liberty revealing themselves among the nations. America was once such a light that brought liberty to people who were accustomed to so-called 'noble' aristocracy and their 'betters' ruling over a peasant class society, who reigned with oppression and injustice as their scepter and crown.
Our present administration's former campaign slogan was "Change We Can Believe In" but what changes have we seen? And who genuinely believes in such changes as being good, noble, beneficial, productive and reinforces the ideals of "life, liberty and the pursuit of happiness" as well as those changes that bring God's approval and blessing?
Our world is changing so much and so rapidly, its hard to keep up with it all; I know - I conduct research for three different sites and its quite a challenge to stay on top of things!
There is a web site that has recently come to my attention which monitors, tracks, comments and provides biblical insights regarding such changes that haven't been brought about by random and circumstantial events but by careful management that is leading our world into globalism and all of its aspects (political, economic, religious, social, etc.):
Forcing Change Ministries

with Carl Teichrib, chief editor.
The two competing kingdoms of God and of Satan (though really, there is nothing that Satan can do to compete - he is a loser by any measure you care to use) can be seen in tumultuous 'weather' on our landscape, and we witness such 'climate change', whether for good or bad, in our every day lives.
Ultimately we know that eternally fair weather is coming once Satan the Storm-maker has been dealt with, but for now we see the same maneuvering, the same machinations, the same satanic scheming that the enemy employed at the Tower of Babel. His desire is globalism, a one world under his total control whereby he himself will be recognized as 'god' and worshipped as such. That is the ultimate goal he has and we are still some ways in getting there, but far nearer than ever before!
We are seeing changes in our nation that will inevitably lead to further lawlessness, chaos and an abandonment of stability, cohesion, prosperity - to say nothing of moral integrity, godliness, uprightness and biblical spirituality which the LORD God desires from us, His creatures (available only through the LORD JESUS CHRIST!).
We Christians may be apprehensive about what the next four years of this liberal (some would say evil, and I'd be hard pressed to disagree with them!) administration will bring. We cringe when we see what's already transpired or soon to be passed into law.
We do well not to support those who would change the bedrock of our once beloved nation, once led by godly men (certaintly not flawless men, for there are no such) who trusted God, who revered the Holy Scriptures, who prayed to the LORD God of Israel for guidance and wisdom.
As the Scriptures state:
PROVERBS 24:21
21 My son, fear thou the Lord and the king: and meddle not with them that are given to change:
What we must hold to, is that no matter what changes may take place - the LORD God, our heavenly FATHER will remain faithful to us, His children. He will not change nor can He:
MALACHI 3: 5 - 6

5 And I will come near to you to judgment; and I will be a swift witness against the sorcerers, and against the adulterers, and against false swearers, and against those that oppress the hireling in his wages, the widow, and the fatherless, and that turn aside the stranger from his right, and fear not me, saith the Lord of hosts.
6 For I am the Lord, I change not; therefore ye sons of Jacob are not consumed.
Were God, Who is perfect in all of His ways, to change, He would leave His state of perfection and become something less perfect (an impossibility). God is Truth, and Truth - contrary to what the liberals, humanists and secularists say - cannot change if it is in fact, genuine Truth; His Word of Truth endures forever without change (

Psalm 100: 5

)!
It's as the old hymn goes . . .
GREAT IS THY FAITHFULNESS
Great is Thy faithfulness, O God my Father,
There is no shadow of turning with Thee;
Thou changest not, Thy compassions, they fail not
As Thou hast been Thou forever wilt be.

Great is Thy faithfulness!
Great is Thy faithfulness!
Morning by morning new mercies I see;
All I have needed Thy hand hath provided—
Great is Thy faithfulness, Lord, unto me!

Summer and winter, and springtime and harvest,
Sun, moon and stars in their courses above,
Join with all nature in manifold witness
To Thy great faithfulness, mercy and love.

Pardon for sin and a peace that endureth,
Thy own dear presence to cheer and to guide;
Strength for today and bright hope for tomorrow,
Blessings all mine, with ten thousand beside!
Source: http://www.hymnal.net/hymn.php/h/19#ixzz2CmzBGu2d
We have no need to fear what changes may come, even if we find ourselves in want, or in danger - ostrisized from a culture that was once predominantly Christian, to the point of losing jobs, homes, or even imprisonment or worse.
Our faithful Father will remain true to us, and for us as we remain steadfast and unwavering upon the Truth of His Word. This reminds me of another hymn:
BE STILL MY SOUL

Be still, my soul: the Lord is on thy side.
Bear patiently the cross of grief or pain.
Leave to thy God to order and provide;
In every change, He faithful will remain.

Be still, my soul: thy best, thy heavenly Friend
Through thorny ways leads to a joyful end.
Of course once the world is in a state of Luciferian 'Lock-down' and everything is under the control of the Beast and Satan receives worship from all (or nearly all - a multitude beyond number will choose faith in God and suffer martyrdom rather than pledge allegiance to the son of perdition -

REV. 7: 13-15

) and all seems hopeless, there will be another change, a profound paradigm when the PRINCE of PEACE arrives on Planet REBEL and lays low the satanic regime, decimating the devil's demographics, bludgeoning the Beast, flaying the False Prophet and establishes His Righteous Reign of Holy Royalty, Light, Justice, Love and Peace (See

REV. Ch. 20; 21

)!
What we now have before us is the opportunity to reach out to others, and implore them to believe in a change that will effect their eternal future - to change or repent of their sin (as all we saints have done) and receive a change of heart, a new heart (

EZEK. 36:26; JOHN 3:3

) through faith in the LORD Jesus Christ and His sacrifice for our sins on the cross!
For a true view of the genuine Gospel of Jesus Christ, please check this out:

The TRUE GOSPEL - ACCEPT NO IMITATIONS
Now THESE are changes that we, the saints of the Living GOD - DO BELIEVE IN!