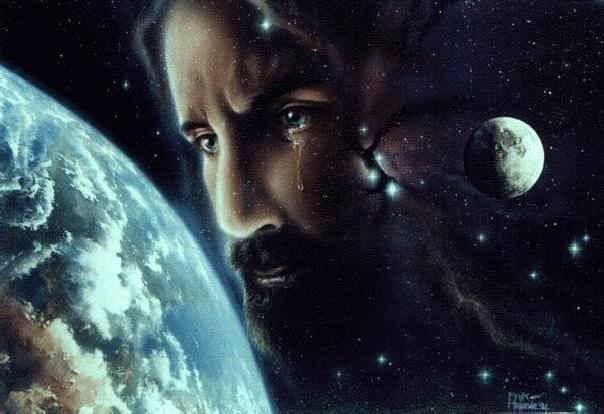 Thy Name Be Sorrow -
There are many titles of Jesus Christ in the Scriptures - the Lion of the Tribe of Judah, the Lamb of God, The Son of David and the Good Shepherd being just a few of them.
Another that we don't usually think of right away is "a man of sorrows."
ISAIAH 53:3
He is despised and rejected of men; a man of sorrows, and acquainted with grief: and we hid as it were our faces from him; he was despised, and we esteemed him not.
If left to our imagination, would we ever think of God Almighty, come to earth as a human being someone Who would be "acquainted with grief"? Or Someone that was not "esteemed"?
Yet such was (and is) the case in this world of rebellion, sad to say.
In the Scripture, it speaks of a couple of times specifically when Jesus wept. Once when He was overlooking the city of Jerusalem. Let's go and visit that time for a brief moment:
God's Grief over His City -
In Luke Chapter 19, the LORD invites Himself to Zacchaeus' house - he who was a tax collector and despised by the Jews as a traitor that collected money from his brethren for Rome. Yet here was a man who expressed repentance and salvation, as so declared by the LORD Jesus Himself.
He then spoke a parable against the Pharisees and religious leader that despised Him as well as this tax-collecting sinner; a parable that nailed those religious hypocrites to the wall!
Then having gone through Jericho and nearing Bethany and Bethphage, He began to ascend up (in elevation) to Jerusalem and ordered His disciples to get a particular colt for Him so that He might ride into the city.
As He did so, His disciples took of their own garments, and palm leaves from nearby trees and strew them for a path, and began to rejoice for all the works that the LORD had done, which they personally witnessed:
LUKE 19: 37 And when he was come nigh, even now at the descent of the mount of Olives, the whole multitude of the disciples began to rejoice and praise God with a loud voice for all the mighty works that they had seen;
38 Saying, Blessed be the King that cometh in the name of the Lord: peace in heaven, and glory in the highest.
39 And some of the Pharisees from among the multitude said unto him, Master, rebuke thy disciples.
40 And he answered and said unto them, I tell you that, if these should hold their peace, the stones would immediately cry out.
41 And when he was come near, he beheld the city, and wept over it,
42 Saying, If thou hadst known, even thou, at least in this thy day, the things which belong unto thy peace! but now they are hid from thine eyes.
43 For the days shall come upon thee, that thine enemies shall cast a trench about thee, and compass thee round, and keep thee in on every side,
44 And shall lay thee even with the ground, and thy children within thee; and they shall not leave in thee one stone upon another; because thou knewest not the time of thy visitation

.
Lament over Lazarus -
Then there was that time in

JOHN 11
, a very personal and intimate time of grief at the grave of a beloved friend of whom it was said by his surviving sisters (Mary and Martha) "Lord, he whom thou lovest is sick".
The shortest and yet one of the most powerful verses in the Scriptures:
JOHN 11:35 Jesus wept.
There are many different thoughts about why the LORD wept at Lazarus' tomb. Some said that He wept because of the unbelief of those around Him, concerning His claim to be the Resurrection and the Life and doubted His abilities to raise Lazarus from the dead. Others suppose that in His humanity, He was simply grieving at the loss of His beloved friend.
I don't see any reason why both assertions couldn't be true. Yet I think there was something much more than simply these things, valid though they are.
Goblins and Monkees -
Now what has this got to do with this exhortation, you might ask? What is this about 'goblins and monkees, James?' you would inquire - 'something about a transgenic experiment that resulted in flying monkeys like on the Wizard of Oz (those monkey creatures gave me nightmares as a little kid!)?'
As most of you know, I write for two other sites besides this one; one of them is The

RED PILL

Consortium, and the latest series of articles I've written on that blog is a survey of sorts on Dr. Stan Monteith's book,

The Brotherhood of Darkness - Part 6

. This link will bring you to the latest of this series; if you wish to read the other previous five articles, you can follow them by the links found at the right hand column.
I caution you however that this subject matter is very heavy and dark and at times very depressing. It reveals how Satan is ever at work, through his witting and unwitting minions at gaining territories for his own kingdom of darkness . . . the very reason why we as children of Light ought to be "redeeming the time because the days are evil" (

EPH 5:16

).
When I completed the sixth installment of this series, explaining further on the schemes, plans, actions and deeds of these globalist 'goblins' it was only a matter days before I learned of the news concerning Davy Jones, former member of the Monkees. A singing musical group that had their own comedy show in the early 60s.
I was very saddened by this news, remembering as a child all the silly antics and fun that I roared in laughter at while watching their show. Then something surprising happened to me while I thought of the demise of this man; I actually choked up and found my eyes misting over with tears!
This is the end of the Innocence?
I was thinking to myself, Well any death is sad and tragic of course, but what's all this for a TV personality? As I pondered the reasons for this rather peculiar lament, I found that I was not only mourning the death of this man, but also thinking about that 'innocent' time of childhood; (we all understand we have a sin nature and that no one except Jesus is really innocent in nature, but...) as children we are most usually unaware of our own depravity and we generally think of the world in a naive way as being friendly, good and non-dangerous.
Researching all of what's happening in today's world (and yesterday's for that matter) I have come to learn more and more that this world is decidedly NOT friendly OR good OR non-dangerous! It's a very wicked world full of danger and deceit where the rich and powerful oppress the poor and weak just as they've always done throughout history (read the Psalms and look at all the times the writers of such plead with God to deliver them from their oppressors!).
I was not only mourning the death of a beloved and funny lil guy like Davy Jones, but also mourning that time of relative innocence as a child, and also mourning the deplorable, wretched condition of mankind where ambition to subvert freedom, subjugate peace, pervert justice and ruin genuine love is the game of choice which these goblins love to play.
A Plan Perverted, Then Postponed -This is not the ideal world which God originally had in mind! It's a fallen world full of fallen people, some of which believe that they are 'holier than thou' (

ISAIAH 65:6

) religiously righteous folk when in actuality they are spiritually blind, miserable and naked and seek to war against the true saints of the LORD who express genuine faith in Him and His Word, apart from the religious accouterments and trappings (
MATT 23: 16, 24; REV 3:17
). Others are deplorably self-interested predators who seek only for themselves and are entirely unsympathetic towards their fellow man.
God Who is perfect in holiness looks down upon this unholy world full of unholy people committing unholy thoughts and unholy deeds; even we Christians have only a partial understanding of what holiness is . . . Every soul born into this world has known only an existence of sin as the reality we all have known since we aware of this world. A person who was born sick and has remained so every day of their lives has no concept or understanding of what health is like; the same could be said of those born blind and dear in relationship to colors and sounds.
HOLY, HOLY, HOLY -
Yet God is fully aware of holiness as an integral part of His Being; Jesus, being God made flesh, Who dwelled in that perfect domain that is heaven, suffered by even entering into this world of sin and enduring such sinners as we (

HEB 12:3
)! Only God Who is perfect in Holiness can really and truly understand how terribly sick and wretched we sinners are and how this dreadfully powerful force had ruined us!
Weeping For This Night in the World -
And God weeps. The paragon of His creation, spiritually murdered by Satan, and impoverished of the riches that He endowed upon our First Parents Adam and Eve and all the tumultuous trial and trouble that we have experienced since that fateful day is witnessed by the LORD of Heaven and His heart is broken for us.
I believe that was primarily why the LORD Jesus wept at Lazarus' tomb - what sin had brought into the world: death like that of a beloved friend; destruction like that of the beloved city Jerusalem - because of sin and ignorance of God's Truth, we are vulnerable and even naked in protective provisions from an enemy who is fervently lusting for our utter ruin. And God the Son weeps.
PSALM 30:5
For his anger endureth but a moment; in his favour is life: weeping may endure for a night, but joy cometh in the morning

.

The Genuine JOY of JESUS -
Yet this man of sorrows, acquainted with grief is also the LORD of glory, Who endured the cross, despised the shame and now sits at the right hand of the throne of God and looks on with JOY, sublime; holy JOY with the eyes of eternity and sees us complete in HIM - free from the marr and stain of sin and misery, delivered from destruction, loosed from the livid and evil lusts that plague us, no longer weighed down with oppression, loneliness, suffering, injustice and heartache.
He sees us beautified in the Spirit as the Bride of Christ, whose garments are white and without wrinkle (

REV 19:6-7; EPH 5:27
), and jeweled with the character of Jesus our LORD! His weeping endured for the width and breadth of that night of sin, the blackness of depravity that was draped upon His holy soul at the Cross - and He actually became sin for us Who knew no sin - and we are made the righteousness of no one less than God Himself (
2 COR 5:21
)! But that time is over in Eternity, and there is the JOY of our LORD which we will enter into when we shall finally see our Beloved face to Face!
What a blessed time we will experience, a time never ending; a reality of "the abundance of peace" which we will delight in -
PSALM 37:11
But the meek shall inherit the earth; and shall delight themselves in the abundance of peace

.
Yet for now, we may indeed sympathize with those that mourn - they are blessed who mourn over their own spiritual poverty (

MATT 5:4

) and weep with those that weep (

ROM 12:15

),
but also let us exhort one another and introduce those who are yet foreigners to the Kingdom of God - of the Blessed Hope Who is one Day soon returning to end this night of weeping for us all who trust in Him - and see the Son Rise to the glory and establishment of His Kingdom of Peace upon this Earth!
ISAIAH 65:19
And I will rejoice in Jerusalem, and joy in my people: and the voice of weeping shall be no more heard in her, nor the voice of crying.
ISAIAH 9:6
For unto us a child is born, unto us a son is given: and the government shall be upon his shoulder: and his name shall be called Wonderful, Counsellor, The mighty God, The everlasting Father, The Prince of Peace.
LUKE 1: 30 And the angel said unto her, Fear not, Mary: for thou hast found favour with God.
31 And, behold, thou shalt conceive in thy womb, and bring forth a son, and shalt call his name JESUS.
32 He shall be great, and shall be called the Son of the Highest: and the Lord God shall give unto him the throne of his father David:
33 And he shall reign over the house of Jacob for ever; and of his kingdom there shall be no end

.