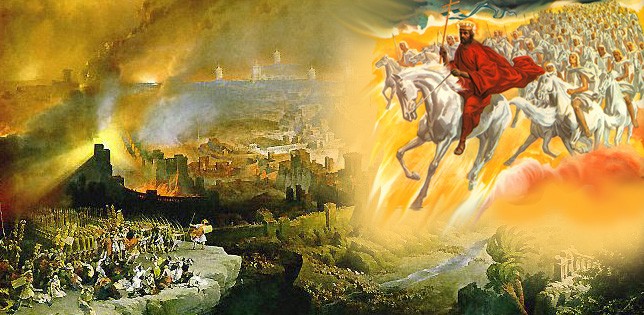 Hosea 5:15 I will go and return to my place, till they acknowledge their offence, and seek my face: in their affliction they will seek me early.


In this passage we have an interesting insight into the coming of the LORD. The "I" and the "my" in this verse is speaking of the LORD God; this is easily discernible when you consider this in its context, from
chapter 5:1
, all the way through
chapter 6
, especially
vs. 1-3
.
Verse 15
above speaks of God going (departing) and returning to His place. When did God return to His place? And what is His place?
We know that the LORD God inhabits eternity, or that realm of His eternal kingdom (
Is. 57:15
) and in this passage of Hosea it says that He would return to this (eternal) place, but of course that would have to mean that He at one time, left it, otherwise He couldn't "return" there, could He?
So when DID God leave heaven, and then return? Obviously this is referring to the LORD God, the Son, the LORD Jesus Christ! The LORD Jesus after having risen from the dead, and then ascended into heaven, where He would and still does, sit at the right hand of the Father.
"Til . . ." His Second Coming where He will rule and reign a thousand years as the Meschiach Nagid or the Messiah King. When will this occur? Of course at the end of the
time of Jacob's Trouble
as spoken of in Jeremiah 30: 7 -
Jer 30:7 Alas! for that day is great, so that none is like it: it is even the time of Jacob's trouble; but he shall be saved out of it.


Israel will be saved out of that dreadful time because they will be rescued from their enemies by the coming Messiah. And yet in this passage of Hosea, there is another indicator as to when the LORD will return.
". . . til they acknowledge their offence, and seek my face. . ."

Note that the word for 'offence' is in the singular; something singular in its transgression against the Holy God of which national Israel was guilty of.
I believe that this was the rejection of their Messiah, when nationally (but not individually, for His disciples certainly believed on Him, even to the giving up of their lives!) rejected their King.
"Affliction"
here is speaking of
Jacob's Trouble, Daniel's 70th week
(as in
Dan. 9: 24-27
), also known as
'the Tribulation'
and its at such a time that a remnant will seek the face of the LORD God and repent of their national sin.
There is another significant "til" in scripture related to this; a verse in the book of Romans:
Rom 11:25 For I would not, brethren, that ye should be ignorant of this mystery, lest ye should be wise in your own conceits; that blindness in part is happened to Israel, until the fulness of the Gentiles be come in.
Yet this blindness will begin to lift once the
'fulness of the Gentiles'
is completed; which speaks of the church of Jesus Christ, His Gentile bride comprised of all nations (which itself is addressed in the Council in Jerusalem in
Acts 15
as
"a people called out for His name among the Gentiles
").
In the book of Zechariah we have further insight into the coming of the LORD -
Zech 12:10 And I will pour upon the house of David, and upon the inhabitants of Jerusalem, the spirit of grace and of supplications: and they shall look upon me whom they have pierced, and they shall mourn for him, as one mourneth for his only son, and shall be in bitterness for him, as one that is in bitterness for his firstborn
.
And at such a time Y'shua will be received as the rightful King of Israel, and reign in the righteousness of the LORD; this was a promise made to Mary, by the Messianic messenger, the angel Gabriel in
Luke 1: 30-33
, esp.
vs. 32-33
! This is in fulfillment of
2 Sam. ch 7
and
Ps. 89
where the
Davidic Covenant
is spoken of, and speaks of the greater Son of David (a Messianic title of JESUS CHRIST) and His reign over Israel as well as the Gentile nations.
This is why the enemy Satan is working so diligently to wipe out Israel, using the nations of the world to come against her; we are seeing this transpire with greater intensity every day in our daily news broadcasts!
Nevertheless the Word of God stands sure and steadfast, and no weapon formed against Israel will prosper; God is her protector and will be diligent to keep His eye upon His beloved people -
Check out Psalm 122, and particularly vs. 6
Psalm 122:6 Pray for the peace of Jerusalem: they shall prosper that love thee.
And -
Psalm 121:4 Behold, he that keepeth Israel shall neither slumber nor sleep.


What we are praying for is in all actuality for the Prince of Peace, the LORD Jesus Christ, to inaugurate His reign; until that happens, no peace in Israel will be possible in a world whose god is the devil, chief adversary of Israel!
So let us remain vigilant in our prayers for this nation, and for God to raise up a remnant who will proclaim the LORD Jesus Christ as their own and faithfully stand for the truth of God's Word. Though all the world should come against her (
Zech 12:3
), let the true bride of Christ stand with her and serve God's people with our intercessions and petitions! Baruch HaShem and maranatha!
James 5:7 ¶ Be patient therefore, brethren, unto the coming of the Lord. Behold, the husbandman waiteth for the precious fruit of the earth, and hath long patience for it, until he receive the early and latter rain.

Hosea 6:1-3 ¶ Come, and let us return unto the LORD: for he hath torn, and he will heal us; he hath smitten, and he will bind us up.
After two days will he revive us: in the third day he will raise us up, and we shall live in his sight.
Then shall we know, if we follow on to know the LORD: his going forth is prepared as the morning; and he shall come unto us as the rain, as the latter and former rain unto the earth.