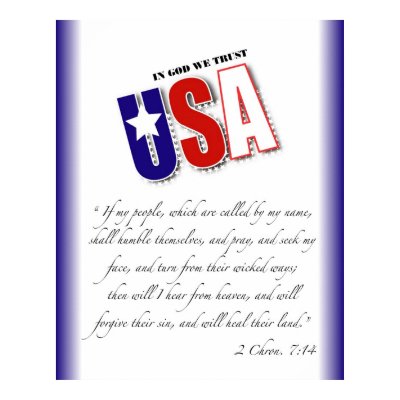 WHO ARE THE PEOPLE IN "If My People"?
We are all witnessing on a daily basis the slide of morality in our nation and biblical Christianity with its alarming velocity towards utter ruin. We who are concerned are seeking God's face, turning away from known sin, and desirous in encouraging the saints to live whole heartedly for the LORD Jesus Christ and to warn others, both sinners and saints of the impending judgment should this nation (and the church)refuse to repent of her wicked ways.
Abortion with its tens of millions of babies murdered. Sexual promiscuity. Homosexual death-styles promoted and endorsed. Illegal drug usage (not to mention the 'legal' variety used in illegal ways). Wanton violence. Evolution taught as science fact (no longer a theory?). The deterioration of the sanctity of biblical marriage and the family relationship. The list can go on and on.
A very common verse that's used to express our prayerful hope in the restoration of our nation is found in:
2 CHRON 7:14
If my people, which are called by my name, shall humble themselves, and pray, and seek my face, and turn from their wicked ways; then will I hear from heaven, and will forgive their sin, and will heal their land.

And while I believe this verse is applicable on some fundamental, rudimentary basis for our situation here in America and among us Christian believers, who indeed are the people of "If My people. . . "?
Of course these words spoken by the LORD God to Solomon at the dedication of the newly built Temple in Jerusalem were addressed to the King himself, and his kingdom comprised of God's people, the Hebrew nation.
We read that should the LORD send judgment upon a wayward, rebellious Israel, He would restore that which the judgment destroyed if His people did four things:
1) Humble themselves - be broken of their pride and sin.
2) Pray - to petition God from a penitent heart.
3) Seek His face - To long after God until He is found.
4) Turn from their wicked ways - to repent.
And if Israel did these things from a sincere and broken heart, the LORD God promised to do three things:
1) He would hear from heaven - Acceptance of their prayer.
2) He would forgive their sin - Grace bestowed in restoring their relationship to Himself.
3) He would heal their land - restoration of the land.
Along with this "If . . . then" declaration by God found here, there are a number of others that preceded it found in chapter 6 (among other passages) in Solomon's prayer of dedication:

verses 22-31

,

and 34-42. Even in vs. 32-33 is speaks of "the stranger" and if they "for Thy great Name's sake" if they come to the House of the LORD and pray, that they may indeed be heard by God in heaven!
Yet Israel enjoyed a special relationship with God, above all other nations in the Earth. After the Flood of Noah, God told the people of the Earth to go forth and multiply on the face of His world, but rather than obey God, they 'huddled together' and built a city and a tower "lest we be scattered abroad on the face of the whole Earth" (

GEN 11:4

). They were in blatant defiance of God's command! So because no one was obedient to the LORD God, He decided of His own volition to choose a man for Himself and establish by grace a relationship with Abram (later named Abraham) of the city of Ur.
From Abraham God built the nation of Israel and to this nation, through Moses, the Law of God and His covenants were given, as well as the holy oracles -
ROM 3:1-2
What advantage then hath the Jew? or what profit [is there] of circumcision?
Much every way: chiefly, because that unto them were committed the oracles of God.

ROM 9:4
Who are Israelites; to whom pertaineth the adoption, and the glory, and the covenants, and the giving of the law,

and the service

of God and the promises

;
In Deuteronomy we read the following:
DEUT 4:4-8
But ye that did cleave unto the LORD your God are alive every one of you this day.
Behold, I have taught you statutes and judgments, even as the LORD my God commanded me, that ye should do so in the land whither ye go to possess it.
Keep therefore and do them; for this is your wisdom and your understanding in the sight of the nations, which shall hear all these statutes, and say, Surely this great nation is a wise and understanding people.
For what nation is there so great, who hath God so nigh unto them, as the LORD our God is in all things that we call upon him for?
And what nation is there so great, that hath statutes and judgments so righteous as all this law, which I set before you this day?
God's promises and covenants to Israel will be fulfilled precisely as He declared; Israel still has a future and a destiny as laid out plainly in scripture, and by no means were these abrogated, superseded or granted to another nation (including the church! Replacement Theology, Dominion and Kingdom Now are all biblically erroneous and are addressed later in this article). The Abrahamic and Davidic covenants are both unconditional, that is, God holds only Himself, not Israel, accountable to see to it that these covenants are fulfilled (See

GEN 15:1-21

;

2 SAM 7:10-16

).
Gabriel, an angel who always seems to be delivering a Messianic message, appeared to Mary and declared that she would give birth to the King of Israel, the Messiah, and that God would grant to Him the throne of His father, David and would rule the nation Israel forever (See

LUKE 1: 30-33

).
In

ACTS 15

there was a council at Jerusalem to determine whether or not Gentile believers would be required to observe the Law and circumcision in order to be saved. Another issue brought up at that council was whether or not Israel had a future in light of the current dealings by God with the church, and the answer, as given by James the elder of the Jerusalem church was an emphatic YES!
See

ACTS 15:7-11,13-17

; note especially

vs. 16 "build again the tabernacle of David . . . and will set it up"

which follows after

vs. 14 "God at the first did visit the Gentiles, to take out of them a people for His Name

[i.e. the church]".
And of course there is Paul's indisputable treatment of God's plan for Israel as recorded in

ROMANS chapters 9, 10,

and

11

. Again, please note:
ROM 11:25-29
For I would not, brethren, that ye should be ignorant of this mystery, lest ye should be wise in your own conceits; that blindness in part is happened to Israel, until the fulness of the Gentiles be come in.
And so all Israel shall be saved: as it is written, There shall come out of Sion the Deliverer, and shall turn away ungodliness from Jacob:
For this is my covenant unto them, when I shall take away their sins.
As concerning the gospel, they are enemies for your sakes: but as touching the election, they are beloved for the fathers' sakes.
For the gifts and calling of God are without repentance

.
Note especially

vs. 25

where it states that

"blindness in part is happened to Israel, UNTIL the fulness of the Gentiles be come in"
The "fulness of the Gentiles" is an expression describing the church of Jesus Christ; when once the church is complete (something that only the Father knows), the LORD will bring us to heaven, and once again God's full attention to fulfilling the covenants and promises of Israel will commence.
So we see that

2 CHRON 7:14

has an explicit meaning for Israel as a nation that God has elected for a special relationship. Does this mean that the church cannot apply the truth of this passage for herself?
Or what about any of the other nations in the world?
Remember the preaching of Jonah in the dreaded city of Ninevah:
JONAH 3:3-4
So Jonah arose, and went unto Nineveh, according to the word of the LORD. Now Nineveh was an exceeding great city of three days' journey.
And Jonah began to enter into the city a day's journey, and he cried, and said, Yet forty days, and Nineveh shall be overthrown

.
The Hebrew word used for "overthrown" is haphak, and it means "to turn about, over, return, pervert, to change, tumbled, turn back".
Obviously the Ninevites understood the message and what it entailed. Yet notice there was no "if . . . then" clause; no mention of God altering His pronouncement should this wicked Assyrian city repent of her sins. Basically its "forty days and you guys are toast!"
Ninevah's response?
JONAH 3:5, 9
So the people of Nineveh believed God, and proclaimed a fast, and put on sackcloth, from the greatest of them even to the least of them.
Who can tell if God will turn and repent, and turn away from his fierce anger, that we perish not?
The Ninevites apparently had no guarantee that God would hear their prayer and spare them.
They were a particularly barbaric and cruel people who commonly brought their prisoners of war back as slaves, dragging them by hooks in their jaws; people they left behind after the conquest were typically maimed by them as they sawed off opposing hands and feet.
Nations that were doomed by the assaults of these Assyrian soliders often committed suicide, rather than face fierce treatment as their prisoners.
The Ninevites were also in the habit of taking their new borns and burying them alive in the walls of their houses so that the gods would bless their dwellings.
So, with no amending proposal by God that He might indeed spare them "if . . ." they fasted and prayed and sought the LORD God, from the King, down to the least of his subjects and citizens; likewise even the animals were made to fast and dressed in sackcloth!
As we know, God indeed spared the city. Did that make Jonah a false prophet? Because he said that they would be destroyed in 40 days, and yet when the day of their destruction arrived, they were still alive and unjudged by God (until the days of Nahum, who came preaching the same message as Jonah, but Ninevah did not at that time repent). God made a declaration to Jeremiah the prophet:
JER 18:7-10
At what instant I shall speak concerning a nation, and concerning a kingdom, to pluck up, and to pull down, and to destroy it;
If that nation, against whom I have pronounced, turn from their evil, I will repent of the evil that I thought to do unto them.
And at what instant I shall speak concerning a nation, and concerning a kingdom, to build and to plant it;
If it do evil in my sight, that it obey not my voice, then I will repent of the good, wherewith I said I would benefit them

.
And so here we have precedent that if any nation would repent of their sin, God would turn from the judgment He intended for them, just as He did for Ninevah. Likewise if a formerly righteous nation commit evil and not repent, God would judge them!
This does not however mean that God would establish a covenant with them as He has done with Israel, nor would they enjoy the same depth and breadth of blessings as Israel has had and will have again (even now we can see how the nation is been transformed from the wasteland it was a little over fifty years ago into the fertile beauty it is today that sells vegetables to Europe, flowers to Holland, electronics to Japan!). All the nations will one day be blessed by Israel when the Messiah comes and reigns over that nation, as well as the Gentile world, enjoying the Millennial age with all its benefits.
America has a chance, albeit a very slim chance - if a wicked nation like Ninevah could repent and be heard of God, then so can our nation: what is required are those righteous saints who will declare without compromise a message like Jonah; let us pray that God would raise up such a one in this late hour.
What the king of Ninevah said, I can echoe: "Who can tell if God will turn and repent, and turn away from his fierce anger, that we perish not?" Of course we are far more accountable as a nation than Ninevah was, as we as America have received far more revelation from God in the Scriptures, thus we have far more to repent for!As for the church, should we humble ourselves and pray, and seek Gods face, and turn from our wicked ways, what can we expect? Lest any one claim that the church has nothing that serious to repent of, let me refer you to this warning from Understand the Times, with Roger Oakland, particularly for pastors, but also for the church at large -
RE: Open Letter To Evangelical and Protestant Pastors WorldwideNow is the Day to Turn Back to God's Word
He will certainly forgive our sins -
1 JOHN 1:9
If we confess our sins, he is faithful and just to forgive us our sins, and to cleanse us from all unrighteousness

.
And He will raise us up in restoration if we will humble ourselves -
1 PETER 5:5b-6
. . . and be clothed with humility: for God resisteth the proud, and giveth grace to the humble.
Humble yourselves therefore under the mighty hand of God, that he may exalt you in due time

:

And will He heal our land? But we have no land or sure dwelling place here on this Earth; we are pilgrims here, just passing through this world of sin looking forward to our eternal home in heaven!
1 PETER 2:9-11
But ye are a chosen generation, a royal priesthood, an holy nation, a peculiar people; that ye should shew forth the praises of him who hath called you out of darkness into his marvellous light:
Which in time past were not a people, but are now the people of God: which had not obtained mercy, but now have obtained mercy.
Dearly beloved, I beseech you as strangers and pilgrims, abstain from fleshly lusts, which war against the soul

; (See also

JOHN 17:14-16; 18:36

).
If not a 'land' then a heart condition and spiritual blessing and vitality is what God will restore to a repentant church.
In closing let me also emphasize that if America repents, it MUST be on the biblical basis of REPENTING from our sin, and TURNING AWAY from our wickedness and pledging our allegiance to the LORD God.
There has been, for many years now, a growing movement of nationalism in America that's riding on the coat tails of Christendom in our nation. That we are somehow a more godly, more Christian people if we obtain and maintain a patriotism for America and that we cannot truly be Christian unless such patriotism is adhered to. Some such declarations are made by the Tea Party leaders of today -
There are many ministries and movements that are part of what's called 'Dominion' and 'Kingdom Now' theology which expresses its belief that the church will take over the world and if not convert ALL the souls within it, at the very least 'Christianize' it with high moral principles and that the LORD Jesus Christ CAN'T (??!) return until we achieve this goal.
Obviously an unbiblical, to say nothing of an untenable objective; to learn where Dominionism is today, please follow this link:
Dominionism Today
For more information re: this movement here is a two part series by The Berean Call (note: while these articles are more than 20 yrs old, they are remarkably relevent and still viable in their treatment of this heresy) -
Kingdom/Dominion Theology - Part 1
Kingdom/Dominion Theology - Part 2
I will close with the following quote from the web site: The Cross Church - (American Patriotism and Biblical Christianity: Are They The Same Thing?)
"Christianity in culture does have impact and does produce change. But it only does so as long as Christianity doesn't become a political organization and remains at its very core deeply gospel-centered. Is it wrong for believers to enter politics? Of course not. Is it wrong for Christians in politics to use their office, driven by a biblical worldview, for the good of society and their fellow man as say, Wilberforce did on the issue of slavery? Absolutely not. But the church itself is not driven by the brilliance of U.S. Constitutional ethics, but by the Scriptures of the living God (emphasis mine).
"So again, what is the solution to the plight our nation finds itself in? The gospel of our Lord Jesus Christ. And that brief answer is not about offering cultural reform back to an era of family values and more virtuous days. Jesus Christ did not come to transform America, but to transform Americans. The gospel is not the new nationalism for the conservative, but the hope for any sinner (like me and you) who by God's sovereign electing love trusts that eternal life and salvation is attained only by grace through faith in Jesus Christ as Lord alone.
[In other words] beloved, in this hour in our nations history may I propose a simple mandate: it is time for the church to be the church."
Let us continue to pray for America, her people as well as the saints of the church of the LORD Jesus Christ - both are in need of repentance and restoration. Will they be? As for America "who can tell?"; as for the church - I am confident that every true believer will be completed until the day of Christ Jesus:
PHILLIPIANS 1:6
Being confident of this very thing, that he which hath begun a good work in you will perform it until the day of Jesus Christ: