We Christians are engaged in a war of such fantastic dimensions, with such high stakes, against so powerfully deceptive an enemy, that we cannot live our lives frivolously or carelessly. This world for us is not a playground but a battle field!
Spiritual warfare in good Christian conduct is all about "upright and outreach". It's about living our lives pleasing to the LORD, contrary to the kingdom of darkness, being proper examples of the believer, keeping faithful stewardship over our hearts and lives, living in the Light of God's Word and honestly examining ourselves for any compromises into sin. That's being upright.

We are to be able ambassadors, and powerful evangelists, bearing the precious seed of the Word of God, sowing the life-giving Gospel into the lives of the lost. Evangelizing the sinner and encouraging the saint. That's competent outreach.

Satan wants to do everything he can to compromise our walks, drawing us into the sinfulness of carnality and away from the LORD and the saints: "divide and conquer" by isolating Christians and bringing them to a place of lonely vulnerability; ruining our testimony and crippling our walk.
EPHESIANS 5:14-16
14 Wherefore he saith, Awake thou that sleepest, and arise from the dead, and Christ shall give thee light.
15 See then that ye walk circumspectly, not as fools, but as wise,
16 Redeeming the time, because the days are evil

.
That word "circumspectly" means essentially, to WATCH YOUR STEP, be careful and observant about where you're going. Much like an acrobat on the trapeze wire, or even more significantly, the soldier stepping through a mine field!
Satan is plotting, even as we attend to this message, with plans and devices whereby he will trip us up in our walks, wound us, and prevent us from "redeeming the time" - that is, putting our time to good use for the purposes of God, and instead, indulging in sin that will snare us, traps us, bind us and make us ineffective.
I was reading through the books of I and II SAMUEL, I came to chapter 11 (uh, that's biblically, not financially) of II SAMUEL, the infamous event that led to David's downfall with Bathsheba.
As I was pondering the situation, the LORD led me to understand that there are six levels that lead us towards and then into sin, and He even gave me the wit to label them all with letter L's.
2 SAM 11:1
And it came to pass, after the year was expired, at the time when kings go forth to battle, that David sent Joab, and his servants with him, and all Israel; and they destroyed the children of Ammon, and besieged Rabbah. But David tarried still at Jerusalem
.
Rather than leading his men into war, as he was accustomed to do beforehand, he sent Joab in his place; one might suppose that David was getting on in years, and so he was no longer capable of engaging in battle, but this wasn't the case until almost 10 chapters later; he had a close call in battle - his reflexes and strength weren't what they used to and so his men told him, "no more! (

2 SAM 21:17

)". But here at this time, David should have been engaged in battle, instead, he resided in comfort in his own palace.

A preoccupation in seeking personal comfort over the call to arms in the LORD's army to stand with the Captain of the LORD of Hosts and against evil, will lead to an attack from the enemy which in turn will lead to defeat. If the church isn't actively engaged in an offensive against the enemy, if we are conducting ourselves in a defensive battle - that is a battle we cannot win (history proves that no one ever won a defensive war).

Consider the apostle Peter, warming himself at the fire during the LORD's trial, instead of standing with His LORD – or even beforehand, falling asleep when he should have been praying alongside our High Priest (

MARK 14:37

), and then following Him to His first trial, but following "...afar off... (

MARK 14:54

).
The
FIRST LETHAL LEVEL
that leads into sin is:
LOCATION
:
Being where you shouldn't. Or not being where you should! That is in a physical sense, but also in a mental sense - do we allow ourselves to drift to places or thoughts where we shouldn't be?
We would know far less struggle if we continued to walk in the Spirit - that is - to live our lives like Jesus, by His power alone! If we did this, we wouldn't have to be so concerned about fulfilling the lust of the flesh, because you can't do both at the same time, even as you can't walk in two different directions at the same time (

GAL 5:16-17

)!
David should have gone to war, but rather, he tarried still in Jerusalem, at his palace. He would have done well to "ponder the path of [his] feet" (

PROV 4:26

). Little did he know he was about to engage in an entirely different battle, a battle against temptation and lose terribly:
2 SAM 11:2
And it came to pass in an eveningtide, that David arose from off his bed, and walked upon the roof of the king's house: and from the roof he saw a woman washing herself; and the woman was very beautiful to look upon
.
In those days, people had patios on the roofs of their homes; and because the land in Jerusalem had steep hills, houses looked like stairs, the one next door being higher than yours, and the one after that, higher still.
David had a clear view of the patio area where Bathsheba was. Instead of turning right around and going back inside, and perhaps picking up a scroll of Scripture and meditate on God's Word - he remained at that location, at a vantage point where he viewed what he shouldn't have.
The
SECOND LETHAL LEVEL
that leads into sin is:
LOOKING
:
Setting things in our sight that we shouldn't.
It's been said regarding temptation, that it isn't the first look that snares you,
it's the second
. It's one thing to catch sight of something that one ought not to see, and then avert one's gaze and attention away from such, but it's another thing to return your gaze to that sinful sight and stare, and allow yourself to be drawn in.

The Psalmist said:
PSALM 101:3
I will set no wicked thing before mine eyes: I hate the work of them that turn aside; it shall not cleave to me
.
This was something David was committed to after Bathsheba, and it would seem he had learned his lesson (read

PSALM 101

in its entirety and see if you get the same impression). Would to God that he had reminded himself of such necessary protection to keep him from peril, prior to this insidious incident.
Would to God that we'd remind ourselves when temptations come our way! We must never be caught off guard when temptation comes our way; sometimes we are surprised, because the devil is wily and cunning and seeks to catch us by surprise like a ravenous wolf or a roaring lion that lies quietly hidden in the brush, eyeing his prey.

Let us expect assaults of temptation by our enemy, just as troops expect enemy soldiers on the battlefield.
The
THIRD LETHAL LEVEL
that leads into sin is:
LINGERING
: Rather than fleeing temptation (
2 TIM 2:22
), we linger and entertain.
2 SAM 11:2b
. . . and the woman was very beautiful to look upon
.
And David sent and enquired after the woman. And one said, "Is not this Bathsheba, the daughter of Eliam, the wife of Uriah the Hittite?"
As stated, it's that second, and third, and continual 'looking' that turns to lingering that causes us trouble. Rather than rejecting such vision and ideas and thoughts outright, we, like David 'toy' and 'flirt' with them. We take the time to let temptation work in our heart and mind which brings us trouble.


Martin Luther was fond of saying that . . .
"You can't stop a bird from flying over your head, but you can sure keep it from building a nest in your hair!"
Such fleeting thoughts that may cross our minds are in large degree out of our control, but it's our choice if we decide to reach out and snatch one of them 'out of the air' and examine it more closely. Proverb states:
PROV 6:27
Can a man take fire in his bosom, and his clothes not be burned?
There will be consequences to entertaining temptation; the fiery passions can and will burn our clothes, i.e., our robes of righteousness; that out-working of God in our lives which is apparent and manifest for all to see.
ISAIAH 61:10
I will greatly rejoice in the Lord, my soul shall be joyful in my God; for he hath clothed me with the garments of salvation, he hath covered me with the robe of righteousness
…
Traditionally people wore inner garments with a heavier robe over them. The garments were underneath, unseen, but the robe was worn on the outside, and visible.
Likewise, the LORD's work of salvation is multi-fold, including justification, and sanctification. Sanctification is the inner working of salvation upon our hearts and minds, unseen by all except by the LORD.
However, this work of justification and sanctification works outwardly to produce the righteousness of Christ in our lives, producing good works, righteous actions and the fruit of the Spirit, visible for all to see.

It's when we succumb to temptation and fall into scandalous sin, that our robe of righteousness suffers burning, creating a blemish that nothing can mend except repentance and the blood of the Lamb (

1 JOHN 1:9

). Just as David eventually ended up losing the respect of many of his subjects because of his sinful conduct, our witness for Christ can also suffer – which is exactly what Satan intends!
We begin to burn in unlawful desires and covetousness.
As we have already seen, David took note that Bathsheba (who was taking a bath . . . strange that she would have such a name!) was beautiful to look upon.

If this was a mere glance, he wouldn't have been able to appreciate this beauty. But this was a beauty that was not his to appreciate!
More than this, she belonged to another: her husband Uriah who conducted himself more nobly than the king, valiantly fighting in the battlefield far away!
Temptation is not a sin in itself, but lusting and all other forms of coveting is a sin (

ROM 7:7

), and in their own way, are a form of idolatry. We believe "if only" we had this in our lives or that, THEN we would be content and happy.

This is a silent indictment against our Maker Who has given us all things to enjoy (

1 TIM 6:17

) and blessings enough to be content with (Paul said, having food and raiment [only!] and therewith be content!

1 TIM 6:8

), such coveting says to God, 'What You've given me is not enough! I want more!' This is a lie from the enemy, and our own carnal thinking!

This is why "the love of money is the root of all evil" (

1 TIM 6:10

), because it's by the power of money that our lusts and covetousness meets together with sin and leads not only to destruction of ourselves, but too often those around us!
JAMES 1:14-17
14 But every man is tempted, when he is drawn away of his own lust, and enticed.
15 Then when lust hath conceived, it bringeth forth sin: and sin, when it is finished, bringeth forth death.
16 Do not err, my beloved brethren.
17 Every good gift and every perfect gift is from above, and cometh down from the Father of lights, with whom is no variableness, neither shadow of turning

.
JAMES 1:12
12 Blessed is the man that endureth temptation: for when he is tried, he shall receive the crown of life, which the Lord hath promised to them that love him

.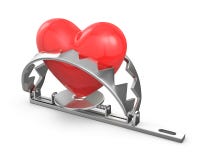 The
FIFTH LETHAL LEVEL
that leads into sin is:
LATCHING
:
Once we partake of the temptation we are
snared, caught in the trap set for us by the enemy
and rather than possessing the sin, the sin possesses us.
2 SAM 11:4
And David sent messengers, and took her; and she came in unto him, and he lay with her; for she was purified from her uncleanness: and she returned unto her house.
Once the decision was made, it led to a course of actions (

JAMES 1:15

), beginning here. Little did David know, or Bathsheba for that matter, that a child would be conceived, and with a sense of dread and panic, David connived a scheme to 'cover his sin' from her husband Uriah.
Think about it, all of this trouble could have been avoided if David had simply left his porch and went back inside of his house! Or consider this: Bathsheba could have easily set up a screen around her bath to prevent unwanted attention – so was it 'unwanted' after all? A good question . . .
Yet the fire had already had a chance to burn in David's bosom, and it set in motion a destructive series of events that would lead to further deception, murder and national scandal as well as a never ending family feud among David's kin!
2 SAM 11:5
And the woman conceived, and sent and told David, and said, I am with child
.
Here the one who had done the latching, finds himself latched onto by a woman he had wronged; now there was a child born of this sin, and David had to try to figure a way out of this mess!
Just as the latching on to sin gets us caught, the lynching of sin gets us killed, specifically, spiritually deadened, unable to have fellowship with the LORD, unable to reach Him due to our condition (

ISAIAH 59:2

)
Since the armies of Israel were away, including Uriah, Bathsheba's husband, upon his return, he would have known that she was unfaithful to him, and further would demand to know who the father was! David had to think fast . . .
Now he could have repented; he could have faced the consequences of his sin by bringing this trespass into the light and seek forgiveness, first from the LORD – and then from Uriah. But he didn't. As is so often the case, one sin leads to another – as well shall soon see . . .
2 SAM 11:6-8
And David sent to Joab, saying, Send me Uriah the Hittite. And Joab sent Uriah to David
.
And when Uriah was come unto him, David demanded of him how Joab did, and how the people did, and how the war prospered. And David said to Uriah, Go down to thy house, and wash thy feet.
And Uriah departed out of the king's house, and there followed him a mess of meat from the king

.
After the long journey from the battle front, then having eaten, David presumed that Uriah would then feel quite tired and sleepy, and go to his own home, spend time with his wife, and later upon learning of her pregnancy would assume that it happened that night.
Yet here we see Uriah conducting himself with greater nobility than David.
He refused to spend time in his own home, in his own bed with his wife because his fellow officers and men were off in battle, enduring great stress and hardships; he stood in spirit with his compatriots, and would not enjoy his ease and comforts!
The king then thought to get him drunk with wine; that would do it! Even drunk however, Uriah had enough presence of mind to remain vigilant in his integrity.
Here was a worthy man, and it makes the crime about to be committed even more horrible and heinous! Uriah was a man of God, who possessed integrity or as we might think of it, inward truth, good character, an upright heart.
PSALMS 51:6
Behold, thou desirest truth in the inward parts: and in the hidden part thou shalt make me to know wisdom.

Not only does David send a letter to Joab by the hand of Uriah, with orders to abandon Uriah in the heat of battle until he is slain by the enemy, but this noble man was trustworthy enough to carry these orders without 'peeking' at them!

David knew what sort of man he was conspiring to kill. To go through such measures to conceal our own sin is reprehensible, and the plot here gets more tangled with transgression as it goes!
Uriah delivers the message to Joab; imagine as this officer stands at attention before his general, and Joab having read David's message, then looks up to this soldier for any glint of knowing in his eyes. What he read there was an innocent man who had no idea of his imminent death.
Uriah is slain in battle, but while it was the enemy's sword that killed him, it was David's doing (See

2 SAM 12:9

)! The word reaches back to Jerusalem. King David takes Bathsheba into his own home and is heralded no doubt as a heroic benefactor, a noble deed, indeed! No doubt people bragged about their king and his generosity and compassion!


Some years go by, and David believes his dreaded secret is safely covered, but none of our sins are ever hid from the All Knowing gaze of our God! The only ones fooled by our cleverness is we ourselves! The seeds we sow will inevitably find their way upwards and bring forth its terrible fruit! And this sin festered, and ate away at David's soul, deadening his relationship with the LORD and with others (

PSALM 32:3-4

)
GAL 6:7
Be not deceived; God is not mocked: for whatsoever a man soweth, that shall he also reap
.
Finally, we come to

Chapter 12 of II SAMUEL

, and the prophet Nathan whom the LORD sent to David with a report of a wealthy man and his vast herds of sheep, and his poor neighbor and his one ewe lamb that was like a daughter to him.

The wealthy man has a visitor come calling and he gives the order to his servants to seize upon his neighbor's ewe lamb, slay and dress it, and set it at table for his guest.
David is outraged and demands that this man pay back his poor neighbor four fold (which was according to the Law of Moses) and that the man himself should be . . . slain?? THAT was NOT in the Law!
This makes me stop and think: how severe and harsh we can be in judging other people's sins. Sin is such a blinding, destructive power, that rather than sympathizing with others snared in the same sin we've been snared with, we can too often be doubly cruel!
Then GOD does some '
LYNCHING
' of His own, when He speaks through Nathan the prophet. Some might suppose that this prophet thundered with wrath, pointing an accusing finger at David when he says what he says.
But I think I can see the heart of God mirrored in Nathan's lamenting, grieving cry as his words like arrows pierce 'the conscience of the king'!
2 SAM 12:7
And Nathan said to David, Thou art the man
. . .
The words following are a lament as God pours out His wounded heart, and declares how He had lavished David with blessings and honor . . .
2 SAM 12:7-8
. . . Thus saith the Lord God of Israel, I anointed thee king over Israel, and I delivered thee out of the hand of Saul;
8 And I gave thee thy master's house, and thy master's wives into thy bosom, and gave thee the house of Israel and of Judah; and if that had been too little, I would moreover have given unto thee such and such things.
9 Wherefore hast thou despised the commandment of the Lord, to do evil in his sight? thou hast killed Uriah the Hittite with the sword, and hast taken his wife to be thy wife, and hast slain him with the sword of the children of Ammon.
Yet, after carrying the weight of this besetting sin along with the enormous burden of guilt, David finally breaks and confesses his own guilt: he, unlike Saul his predecessor, owns up to it, and repents (

vs.13

)!
In

PSALM 51

we read about David's heart after he repented of this sin, and in vs. 4 he says,

PSALM 51:4
4 Against thee, thee only, have I sinned, and done this evil in thy sight

. . .
"Against Thee and Thee only, have I sinned…"??

Imagine if Uriah, now dead, could have heard that prayer! What would he have said??
"I am dead David, and all my men with me, they were killed under your orders too! And what about my wife!? I think that was a naughty thing you did to her!"

What David realized, was that had he never gone wrong with the LORD in his walk, he would have never gone wrong against Uriah, the soldiers under his command and Bathsheba.
The LORD forgives David's sin, but there were still consequences! The child within Bathsheba was born ill and though David mourned, fasted and prayed, the child still died. His family was also destined to chaos and disorder.
A child, in wanting to copy his Daddy who was a carpenter, took a hammer and nails and pounded those nails into the doors of the kitchen cupboards. The father discovers his son's deeds and disciplines him, and forgives him. But the forgiveness of the father for his son, didn't make the holes in the cupboards disappear . . .
Our sins are never insular or isolated; they affect everyone all around us. I am convinced that as the body of Christ, we also effect one another on a spiritual level when we commit sin, harbor sin, and leave it festering in our souls, unconfessed and unrepented of!
1 JOHN 1:8-9
8 If we say that we have no sin, we deceive ourselves, and the truth is not in us.
9 If we confess our sins, he is faithful and just to forgive us our sins, and to cleanse us from all unrighteousness

.

May this admonition and exhortation be heeded by us all, myself included when we begin to traverse these Six Lethal Levels Leading into sin; may we rather repent from such that leads to corruption and choose that which leads to life everlasting:
GAL 6:8
For he that soweth to his flesh shall of the flesh reap corruption; but he that soweth to the Spirit shall of the Spirit reap life everlasting
.
To choose the ways of corruption over the ways of Life Everlasting is a form of spiritual insanity that we who have the mind of Christ should never partake of!
DEUT 30:19
19 I call heaven and earth to record this day against you, that I have set before you life and death, blessing and cursing: therefore choose life, that both thou and thy seed may live

:
The
SEVENTH LEVEL that leads us out of sin
:
SALVATION!
There is hope for us however, when we get caught in sin and trespass, because the LORD has tender mercies towards the broken and contrite heart, and a repentant soul will be blessed in such forgiveness:

Read

PSALM 32

and

PSALM 51

!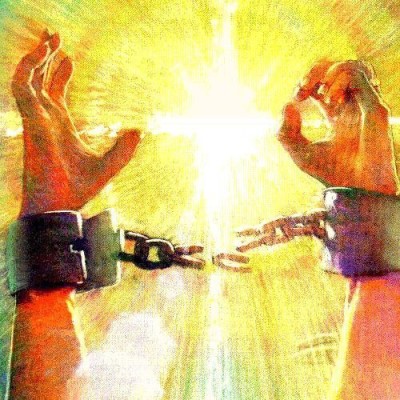 And let us seek the LORD with such repentance and find freedom from the slavery of sin. Let us stand fast in the
LIBERTY
that the LORD has won for us by His death, resurrection and ascension into heaven, where He ever lives to make intercession for us!
GAL 5:1
Stand fast therefore in the liberty wherewith Christ hath made us free, and be not entangled again with the yoke of bondage.