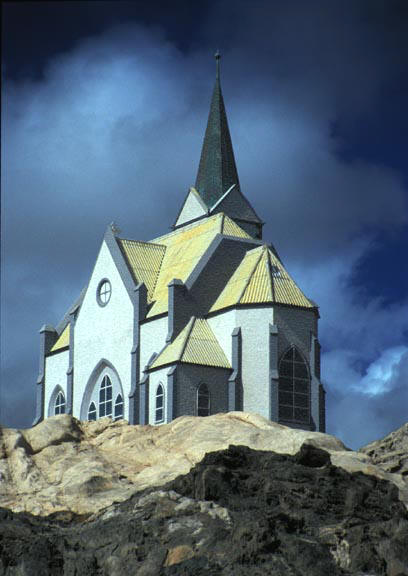 It was the 6th century B.C. in the land of Israel.
Darius the ruler of the Medo-Persian Empire had been reigning at that time for a little over two and a half years. The people of Israel were granted permission to go and rebuild the temple in Jerusalem.
Yet all was far from well in that day.
The word of the LORD through the prophet Haggai was as follows:


HAGGAI 1:6-8
"Ye have sown much and bring in little; ye eat, but ye have not enuogh; ye drink, but ye have not filled with drink; ye clothe you but there is none warm; and he that earneth wages earneth wages to put into a bag with holes.. Thus saith the LORD of hosts; Consider your ways. Go up into the mountain, and bring wood, and build the house; and I will take pleasure in it, and I will be glorified, saith the LORD."
Up until that point the people had said, "The time is not come, the time that the LORD's house should be built." vs. 2.

How they even got into such a predicament where their nation was razed, the holy city of Jerusalem was thrown down, one quarter of the entire population was slain in war, another quarter died in pestilence, another in starvation, and only one quarter remained and were led away captive in Babylon was because of their disobedience to the LORD and His Word.
Then I think of our own nation, and how collectively America has thumbed her nose at God and His Word, and even the church herself is disparaging the Holy Scriptures in ever increasing degrees.
Recall to mind the words of Thomas Jefferson,
"I tremble for my country when I remember that God is just, and that His justice will not sleep forever."
The LORD encouraged His people to build the temple where once again the sacrifices could be made, offerings to the LORD, and He could meet with His people. He assured them that His Spirit remained with them just as much as in the day when He led them out of Egypt.


And on the heels of that encouragement, the LORD declared that,
Hagg. 2:6-7
". . . I will shake the heavens and the earth, and the sea, and the dry land; and I wil shake all nations and the desire of all nations shall come: and I will fill this house with glory, saith the LORD of hosts."


Note, all of creation will be shaken, including all nations: there won't be a single nation that will be exempt of this Divine shaking from the LORD.
"The desire of all nations" , a title of the LORD Jesus Christ, "shall come: and I will fill this house with glory. . ."
Here is a prophecy of the LORD's return to Earth, and a picture of the Millennial Reign in which He will rule from Jerusalem, in a "house" that will be filled with His glory; no doubt the very temple as seen by the prophet Ezekiel!
We realize however that before that glorious event, perilous times are in store in our near horizons; things are going to get increasingly "shakey".
The prophet Joel said as much in
Joel 3:16 -
"The LORD also shall roar out of Zion, and utter his voice from Jerusalem; and the heavens and the earth shall shake: but the LORD will be the hope of his people, and the strength of the children of Israel."
Anyone who's ever been in a major quake can relate to the terrifying experience as something that leaves a person very insecure. The longing for dwelling in a secure, stable environment can be overwhelming. Such an event can possibly leave one seriously psychologically impaired, and fearful.
In today's world where can we find stability and safety? Where can we look to for the security of rock-solid daily living? Where can we find peace?
In Matthew 7:24-27 the LORD Jesus declares that any that hear His Word and obey it, are like a house built upon a Rock, and its an entirely "storm-proof" structure! Such is the security for those who obey the Word of the LORD. Before you can obey it however, you must "hear" it, and this doesn't just mean using your ears. The concept behind this word is "to understand" and that takes spiritual insight granted by the Spirit of the LORD, and this is available to any and all who seek after, desire, and love the Truth.
If you desire peace and stablity, seek after, desire and love the Truth.
Then obey it.
The writer of the book of Hebrews (I believe that's the apostle Paul) admonishes the saints to
Hebrews 12:25-28
". . . refuse not him that speaketh. For if they escaped not who refused him that spake on earth, much more shall not we escape, if we turn away from him that speaketh from heaven:
"Whose voice then shook the earth: but now he hath promised, saying, Yet once more I shake not the earth only, but also heaven. And this word, Yet once more, signifieth the removing of those things that are shaken, as of things that are made, that those things which cannot be shaken may remain.
"Wherefore we receiving

a kingdom which cannot be moved

, let us have grace, whereby we may serve God acceptably with reverence and godly fear:"
Even in our individual lives, we may submit to the LORD Jesus in certain aspects-- our time in church, among other Christians at certain functions like prayer meetings, etc, and in a general sense, our over all lives; yet is He LORD in our home life, with our spouses and families? In our business life? Over our minds and thought life?
Any area of our lives that is founded on the Rock, the LORD Jesus, will know this security. Any area not yet submitted to the LORD in obedience to His Word will not know this security. If you're experiencing difficulties in any area in your life, ask yourself these questions:

Have I submitted this to the will of God? Is Jesus LORD in this area of my life?
Just as every man-made institution, objective and plan; every ideal and philosophy that is founded on humanistic, socialistic, atheistic, emergent church, social gospel (what have you) foundations will crumble and fall in this world. Everyone will experience this tremendous "shaking" by the LORD's hand, so that only that which is founded on Him will endure. So too, every area in our lives not submitted to the LORD Jesus will suffer loss, and only that which is granted to the LORD, this alone will not only survive, but prosper - - even in the midst of hardships, trials and perilous times in our near future!
Incidently, that temple that was built in the days of Haggai was the very same structure that survived into the days in which the LORD Jesus walked the land of Israel; granted it was expanded lavishly under the architectural prowess of Herod the Great, but it was, at its core, the same temple structure that was built several hundred years prior.
Yet the LORD prophecied in Matthew chapter 24 that not one stone would remain on top of another, that is, it would be destroyed!
Why? Quite simply, because the WORD of the LORD had come into their midst, in the flesh, and as a nation, they rejected Him, He who is the Messiah of Israel! Yet, while God is not even today finished with the nation of Israel (she has a fantastic future in store, in fulfillment of promises made both to Abraham and to David), she was in 70 A.D. once again dispersed. She had as before, been disobedient to the LORD, the WORD made flesh!
May we, who are called by the Name of the LORD Jesus, renew our commitment to our LORD and Savior, Jesus Christ, and be hearers, doers, obedient children and lovers of the WORD and thus remain steadfastly secure, and stable on Him, Our Firm Foundation! He alone is our grace, peace and joy!
May the LORD Jesus Christ, bless each and every one of you - - WAY TOO MUCH!!


How firm a foundation, ye saints of the Lord,
Is laid for your faith in His excellent Word!
What more can He say than to you He hath said,
You, who unto Jesus for refuge have fled?
In every condition, in sickness, in health;
In poverty's vale, or abounding in wealth;
At home and abroad, on the land, on the sea,
As thy days may demand, shall thy strength ever be.
Fear not, I am with thee, O be not dismayed,
For I am thy God and will still give thee aid;
I'll strengthen and help thee, and cause thee to stand
Upheld by My righteous, omnipotent hand.
When through the deep waters I call thee to go,
The rivers of woe shall not thee overflow;
For I will be with thee, thy troubles to bless,
And sanctify to thee thy deepest distress.
When through fiery trials thy pathways shall lie,
My grace, all sufficient, shall be thy supply;
The flame shall not hurt thee; I only design
Thy dross to consume, and thy gold to refine.
Even down to old age all My people shall prove
My sovereign, eternal, unchangeable love;
And when hoary hairs shall their temples adorn,
Like lambs they shall still in My bosom be borne.
The soul that on Jesus has leaned for repose,
I will not, I will not desert to its foes;
That soul, though all hell should endeavor to shake,
I'll never, no never, no never forsake.
agape,
brother James